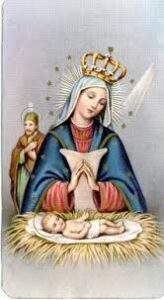 A few reminders:
Sunday Mass in English begins at 9:30 am.
There is no limit to the number of people who can attend Mass as long as we maintain 6-feet of distance between people and wear masks.
You can still contribute to our parish even if you do not attend Mass in person by mailing in your weekly offering or donating online through the ParishGiving link below.
Misas en Honor de La Virgen de la Altagracia:
Sunday, January 17
8:00 am Español, La Iglesia Abajo
10:00 am Español, La Iglesia Arriba